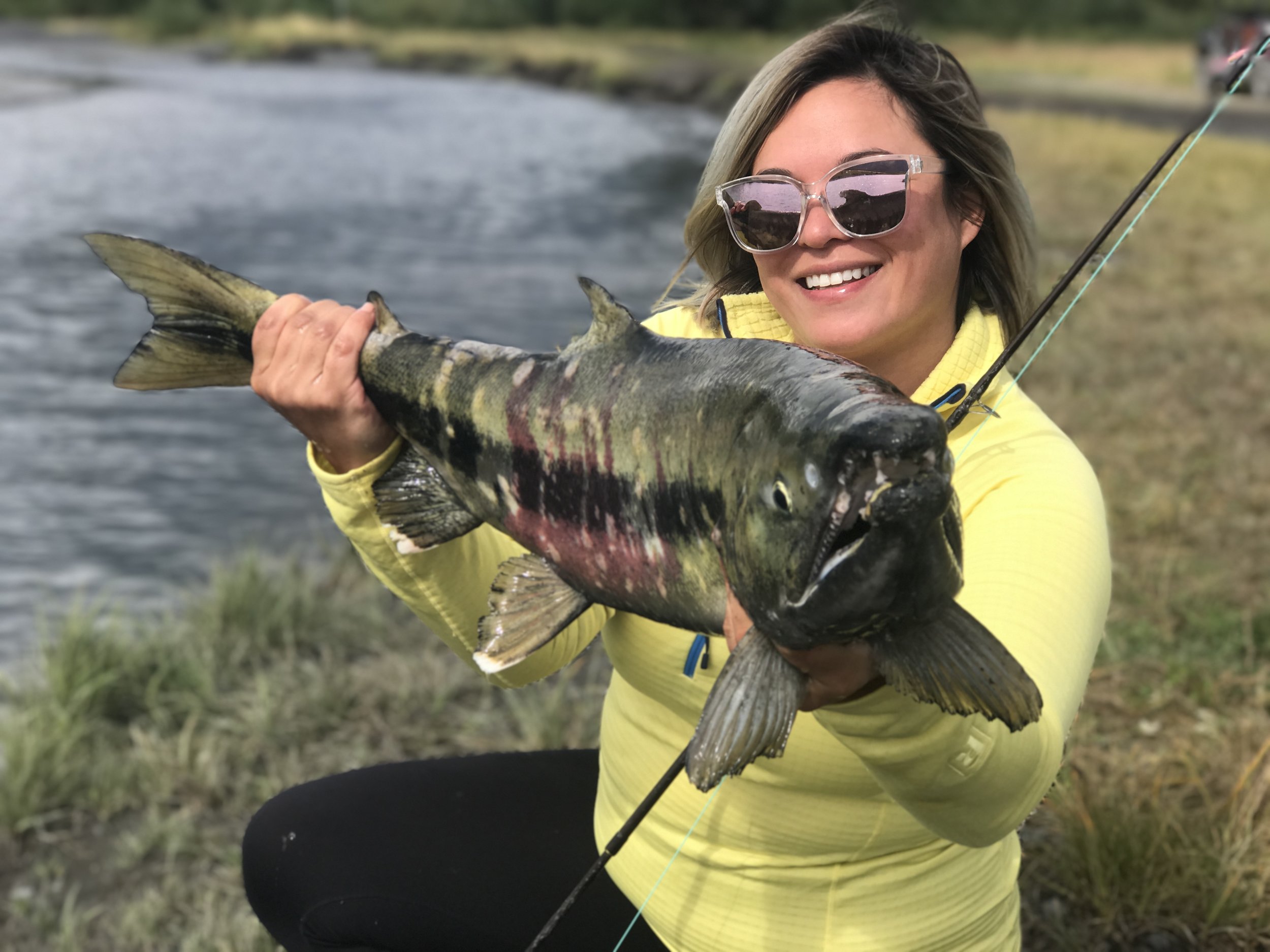 Chum Salmon
Until recently, the Chum Salmon was considered an unworthy gamefish. Thankfully, it has overcome this preposterous reputation and won the respect of countless anglers through its unusual beauty and savage fighting ability.
The Chum (also called Dog or Keta) is the second-largest of the Pacific salmon, trailing the King. It is the largest fish we catch at Saltery Lake Lodge, and one of our favorites. On their free time, it is usually the fish the guides choose to target for fun. One of our guides, Nick Slomski, loves chasing these monsters so much that he has crowned himself "The Lord of The Chum Dogz."
By the time the Chum arrive in fresh water, they have transformed from silver torpedos into a camouflaged beasts of green and purple. The change in color is also accompanied by the growth of large, canine teeth that protrude from its mouth. Interestingly, the Chum's colloquial name "Dog Salmon" comes not from its resemblance to a snarling dog, but from the fact that it constituted the primary food supply of Inuit sled dogs.
Opinion is divided as to the Chum's aesthetic appeal, but there is no controversy about its status as a worthy adversary for the spin or fly angler. What they lack in aerial acrobatics and meat quality, they make up for with brute strength. although the Chum is often overshadowed by the Coho, it can be every bit as exciting to fish for, throwing up huge wakes behind your lure or fly and even taking topwater offerings. A fight with a large Chum can be a true test of your skill (and your gear), sometimes lasting more than fifteen minutes, with screaming runs, vicious head shakes, and high drama.
Chum usually begin arriving in mid-August, and continue to run until early September. As with all salmon, the size of the run fluctuates from year to year, but because they don't travel farther than a mile upstream (and most of them far less), they are always concentrated enough to provide fast action.
Although we are primarily known as a Sockeye and Coho lodge, many of our guests return specifically to catch Chum. When you're standing on the bank of a slough casting to a hundred burly attack dogs all competing for the opportunity to take you into your backing, it's easy to understand why. As an added bonus, Chum are known to attack a swung fly.
Flies we recommend: